Last week Ruthi put out a challenge with the weekly Shop Hop. You can read about it:
I do have goals.
1. Build a new squidoo lens each week as well as update at least 2 others.
2. Post at least 3 things a week to redgage.
3. Post 2 things a week into my etsy store and continue to move other things to my zibbet store.
4. Keep up with the reviews and regular postings to my blog.
5. Sew at least a little but each day. (this goes with accomplishing goal 3)
This past week I did build a new squidoo lens and updated 2 others. I didn't get to redgage. I did just post 2 new items to my etsy shop: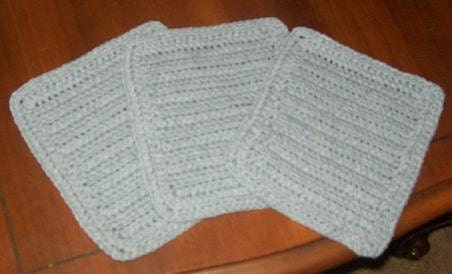 Cotton Crocheted Washcloths Set of 3 in Potpourri

Table Runner
I am behind on my reviews here on my blog :( I've managed to sew each day this week even if it was 5 minutes, but have spent a lot of time getting things ready to sew.
I listed several more books on half.com and have a stack next to me to still list.....also some in the garage that I am still pondering on listing.
The other thing I want to talk about this week is the Christmas Celebration coming up with the Online Craft Mall. I will talk more about it as it gets closer, but I do hope you will click the banner and check it out. Please consider signing up to be a vendor. Until November 8 you can use the early bird special and get your spot for only $5!! That's one hour of presentation time to sell your wares. After Nov. 8 and up to Nov 22 sign up is $10 per spot.
That's it for me this week. I hope you will click the button and hop along---or hop through the list of participants.