I've been pleased with myself that I've not lost my motivation to stay busy on my projects.
I finished the colorful locker hook rug this past week as well as one of the fashion doll bed sets. I have the doll set just listed in my etsy shop and will get the rug listed soon.
In the meantime, here are the things that I worked on this past week:
I put together several of the blocks for the Lexington quilt top.
I have more of the fashion doll bedding sets in the works:
I at least got a start on the yellow and orange string quilt blocks for the color of the month with the soscrappy blog.
And, at sit n' sew I got enough blocks completed for another row on the Arkansas Crossroads quilt.
UFO's:
Rectangle quilt
challenge wall hanging
Hexagon quilt
Emerald Island Fusique table runner
Five and Dime quilt
Brown half square triangle table runner
? sets of doll blanket, pillows, bed and rug
Wall hanging for quilt guild
yo-yo's that need to be made into projects
black and white rail fence quilt
Arkansas Crossroads scrap quilt
T-shirt latchhook rug
Rainbow colored locker hook rug
Charming Stars quilt
Special crocheted prayer shawl
Fall Squares table topper
Crazy colored quilt with the five and dime blocks
Rainbow colored string quilt
Christmas yo-yo table topper/runner
St. Patricks yo-yo table topper/runner
Lexington quilt
? Fabric boxes for Christmas gifts
I link up with the following blogs: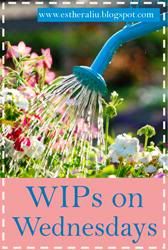 Here are a few more of the books that I have on sale at half.com