I hope you all have had a good week. It's been pretty good here.
First I want to tell you about the app that I wrote about last week. It's called
Watch4Dollar
, and I wanted to wait until I got paid before writing about it. I cashed in 3000 coins for $3 PayPal. I was paid 3 days after cashing out. Unfortunately, PayPal fees were taken out so I actually rec'd $2.87.
I can deal with that. The app is really easy. Once you get past the initial percentage, which doesn't take long at all, you can then watch 4 videos every 30 minutes for a total of 40 points. You can also check in once per day for 20 points.
It's run on 7 levels of referrals, so if you do get people under you that are using the app, the earnings would really go up.
If you would like to give it a try, please use this
LINK
, and put in my code
W4D4AFC8
it would sure be appreciated!
I got in the kitchen towel set that I ordered through
Recyclebank
. It's actually a set of 3 dishcloths, but they are nice and will make a great gift as the set of 3, or to split up as gifts. I'm still gathering points to order my next item.
Here are some Recyclebank points to check out:
5 Free Recyclebank Points
5 Free Recyclebank Points
5 Free Recyclebank Points
Don't forget today's Friday Freebie!
Free Epic Bar for Kroger & Affiliates
You might remember that I mentioned that my brother gave us 3 lbs of ground venison for Christmas. I used one pound and made a meatloaf on his suggestion. I then took 2 slices of the meatloaf and crumbled it. I put it in the freezer and we used it in the sauce on spaghetti night.
I made a nice chili out of one pound, which we ate for 2 nights. And, last night I made a casserole, that we will also eat tonight. So, from those 3 lbs, we came up with 6 meals.
I'm not one that really likes wild game as I didn't grow up in a hunting family, but I am getting more used to it. We were also thankful to have the food as well.
I made a huge crock pot full of ham and beans with the bone and meat left from the big ham this week. My intention there was 2 nights of ham and beans and then freeze the rest for other nights later. We are having a carry in dinner at church on Sunday and there is no grocery money this week. We decided to freeze the rest and take it to heat and serve as our contribution to the dinner on Sunday.
I'm trying to redeem 40,000 points with the Lucktastic app for $10 Burger King to provide us with another meal this week. Unfortunately the prize is out of stock, but I will keep checking!
Speaking of
Lucktastic
......I was looking at the apps to download for points and seen 1800 pts for downloading
Wish
. You know, I'd yet to check that app out. Might have been a mistake as I spent $2.85 of the $2.87 that I got in from Watch4Dollar LOL. Not really a mistake as for that $2.85 I am getting a nice make-up bag and a ring, but I will need to watch and not go crazy ordering things.....however, it's yet another option for me to add to my gift stash and spend very little money!!
Oh! I also did get my points and redeemed for $5 amazon with
MyPoints
. My goal is to redeem once a month, but it looks like it can be more frequent than that, so that is great.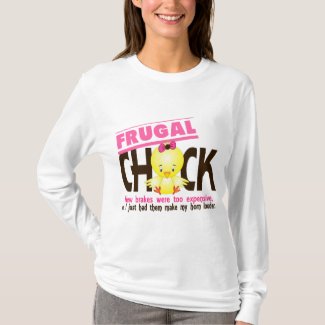 Frugal Chick T-Shirt
by
chicktees