I finally got to go on my first quilt shop hop. I've helped at Cottonwood Quilts during the Central Kansas Quilt Shop Hop for some years now and have always wanted to go on the hop myself. My friend from out of town said let's make it a reality this year and have a girls out weekend, so we did.
I spent the weekend with her, taking 3 days to visit the 9 shops on the hop, and staying at her house.
It was a blast!
I had very little to spend, but I am very pleased with what I was able to buy with what I had.
I took a picture of each shop's shop hop quilt along the way. This one is my favorite because of the log cabins.
While my friend drove on the shop hop, I worked on the doll rugs. Yes,I work strangely. I worked a little on all of them.
While working at the local quilt shop during the hop I added more yo-yo's on to the Christmas table topper. Just a few more to go and it will be finished and I can get it listed in my etsy shop.
This month's color with the soscrappy blog scrap challenge is colors of the sun, yellow and orange. I was able to sort through my scraps and get all of this to make my string quilt blocks with this month.
Last, but not least, this week, I took the rug along when I ran my mom around on her payday. I was able to get the other 3 colors in. Now I need to get in and find just 3 more colors to make into strips to finish it too.
UFO's:
Rectangle quilt
challenge wall hanging
Hexagon quilt
Emerald Island Fusique table runner
Five and Dime quilt
Brown half square triangle table runner
? sets of doll blanket, pillows, bed and rug
Wall hanging for quilt guild
yo-yo's that need to be made into projects
black and white rail fence quilt
Arkansas Crossroads scrap quilt
T-shirt latchhook rug
Rainbow colored locker hook rug
Charming Stars quilt
Special crocheted prayer shawl
Fall Squares table topper
Crazy colored quilt with the five and dime blocks
Rainbow colored string quilt
Christmas yo-yo table topper/runner
St. Patricks yo-yo table topper/runner
I link up with the following blogs: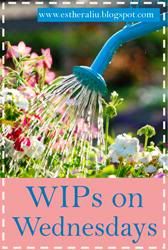 If you are interested, here are a few of the quilting books that I have for sale on half.com: