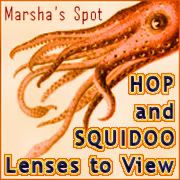 Gift guides are the thing on squidoo right now with Christmas right around the corner!
I've made one new lens and have 2 more that I hope to get done soon.
I've changed the topic of my Grandma's Christmas Wishlist lens to a gift guide.
If you've been building gift guides, or already had some built, please share one or two on them in the linky below. Don't forget that if you've written a blog about squidoo to also link it up as well.
I can't wait to see everyone's gift guides and blog posts.