I did manage to get the 5 string quilt blocks done in yellow and orange for the soscrappy colors for October.
I took the colorful 5 and dime and ripped the blocks and rows apart. I hadn't squared them up before putting them together and knew it had to be done. In the meantime I also finished making the rest of the blocks, got them all squared up and rows sewn. I just need to sew the 2 halves together and decide what I am going to do for a border.
I also finished sewing together all of the blocks for the Lexington quilt and just need to sew the 2 halves together on it too. I need to find the fabrics for the borders on it too.
I did work more on the little doll rugs until I ran out of thin strips for making them. I won't share those anymore, but did also work on more of the beds too.
I have a quilt retreat this weekend with Cottonwood Quilt Shop and have my things packed to work on there. I can't wait until next Wednesday to share what I get done there.
UFO's:
Rectangle quilt
challenge wall hanging
Hexagon quilt
Emerald Island Fusique table runner
Five and Dime quilt
Brown half square triangle table runner
2 sets of doll blanket, pillows, bed and rug
Wall hanging for quilt guild
yo-yo's that need to be made into projects
black and white rail fence quilt
Arkansas Crossroads scrap quilt
T-shirt latchhook rug
Charming Stars quilt
Special crocheted prayer shawl
Fall Squares table topper
Crazy colored quilt with the five and dime blocks
Rainbow colored string quilt
St. Patricks yo-yo table topper/runner
Lexington quilt
? Fabric boxes for Christmas gifts
I link up with the following blogs: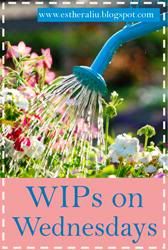 And, here are some more of the books I have listed for sale on half.com: