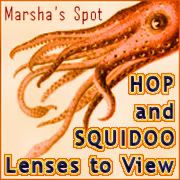 Good Thursday!
This week I would like to ask you to share your highest ranked lens and your lowest ranked lens in the linky.
My Helen Steiner Rice lens rose to the top of my list again for a bit. I assume, as usual each year because of Mother's Day. It didn't stay there long. I still don't have any lenses even in tier 2. Oh how I really must work on that!
Please link up any blog posts you have done this past week pertaining to squidoo as well. Feel free to link up your highest and lowest ranking lenses in addition to any and all blog posts. Thanks!!