Thursday, January 26, 2017
Posted by

Marsha Cooper
at 9:13 AM
0 comments


Links to this post
Wednesday, January 25, 2017
Unfortunately I never did find time yet to get my sewing machine out and get to work on the paper-piecing for the quilt guild challenge. Hopefully Friday I can finally get it out!
I am still keeping up with my 365 challenge of making 3 yo-yo's a day.
I also did more work on the selvage rug.
My 17 in 2017 challenge list is to the right. If you missed my post where I picture them all and would like to check it out, you can find that
HERE
.
I link up with the following blogs: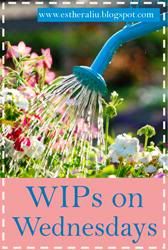 Posted by

Marsha Cooper
at 11:31 AM
0 comments


Links to this post
Labels: 17 in 2017, adiyday, challenge, esthersblog, quilting, selvage rug, sewing, toothbrush rug, WIP, wip wednesday, yo-yos
Sunday, January 22, 2017
Here's another fun team challenge to help you earn SB from Swagbucks! For those of you who don't know what Swagbucks is, it's a website where you can earn cash back on everyday tasks you do online.
Swagbucks wants you to join in the fun! Pack your warmest snow gear and pre-register today! The

Swag Slopes Team Challenge

begins Monday, January 23rd.
All members who participate and contribute at least 400 points to their team's total will receive a SB bonus in the form of a SB Swag Up Rebate! Members of the 1st place team will receive a 50 SB Swag Up Rebate, members of the 2nd place team will receive a 25 SB Swag Up Rebate, members of the 3rd place team will receive a 10 SB Swag Up Rebate. Swag Up Rebate will be made available by 5pm PT on Friday, January 27th and will expire on Sunday, February 12th at 11:59pm PT
Team challenges are always lots of fun and a great way to get to know other "Swaggernauts".
If you aren't a member of Swagbucks yet, just click HERE and join in on the fun and the earning.
Posted by

Marsha Cooper
at 2:31 PM
0 comments


Links to this post