I'm still working on getting myself prepared for my presentation spots at the Spoooky Celebration with the Online Craft Mall. I have my spots set. You will find me presenting on Monday Oct. 3 from 8-8:45 pm CST and on Friday October 7 from 3-3:45 pm CST. Spots are still available but must be purchased by Monday, September 26 to get in on the action. This is truly a fun time. I just ended a giveaway here on my blog to give away a free spot. I only had 2 entrants. I think the online parties are something that not many know about, but I do know that hundreds, or even thousands of my connections online sell their wares online.

I added another set of the Country Yellow washcloths to my etsy store as well as a set of 3 in Cream.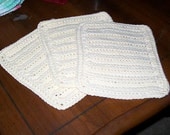 I am in hopes of completing a lap quilt and a Christmas table runner for my new listings next week.
I move 3 more items over to my Zibbet store giving me 17 listings there now. I still have several more items to get moved over this next week.
I put up 3 new listings on Listia today:
If you aren't a member listia, it's a really neat website. Use your points to buy things that you want and need from others. It's a bidding site with your points. You can use this link to sign up and receive 100 bonus points for signing up. You can easily earn points to bid on items even if you don't "sell" anything yourself by sharing auctions, logging in etc. Over my time as a member I have filled goody bags of small items for 4 of my grandchildren, I've gotten a movie, 7 or 8 music cd's, a quilt book, 2 shipments of fabric, thread, and a lot more!
I believe that is it for my report today. I am linking up with the Shop Hop Saturday over at abitosunshine. Come hop along with us!