You will never guess that this week's post is also about food.
I was babysitting at my middle daughters house yesterday. She told me she got out ground beef to thaw and I could make spaghetti or tacos.
Well.....I look in one cabinet, no taco seasoning. I look in another cabinet, no spaghetti noodles. Ok....
There was half a jar of spaghetti sauce and a box of macaroni noodles, so I went with that. Noodles are noodles. Add shredded cheese on top with the cooked ground beef and it made a very filling main dish.
My daughter is what I would call a frugal cook. I'm always trying to figure out how she is feeding their family of 5 using half a jar of spaghetti sauce at a time or half or less of a 1 lb box of pasta.
When they buy 5 lbs of ground beef, they divide and freeze it into 7 portions.
She can make a 3 lb bag of chicken breasts last for 5 meals. Even the taco or other seasoning she will use one packet for 3 meals, just sprinkling in a little flavor.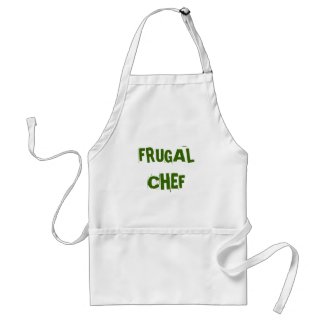 Frugal Chef Apron
by
enemyofdebt
At any frugal cooking/meal type site you will read that you don't need to use a full pound of meat, even if that's what the recipe calls for. That does make good sense.
I may feel she is a bit "stingy" in the main dish department, but I can assume that using less meat and other foods is how they keep their house stocked on fresh fruits and veggies at all times.
You never go over there when there isn't oranges, bananas, and apples in the hanging basket. Most of time there is also other fruits such as cantaloupe, grapes, strawberries, and even a pomegranate in the fridge.
You will also always find at least cucumber, carrots, and bell pepper in the veggie dish (yes, a vintage Pyrex dish like shown below) in the fridge. Most of the time you will also find onion, tomato, broccoli and cauliflower too.
*******
Last week I forgot to mention the Friday Freebie in my post. It was cat treats free, which is always a help in our house. This week it's Blistex Lip Balm, something we can all use, especially this time of year. Even if you don't use it, it will make a great stocking stuffer. Click the link below for more information.
*******
Free Blistex Medicated Lip Balm at Kroger & Affiliates
While I'm at it, before I close this post, here are a few more freebies and such that you might want to check out:
Free Joyce Meyer Scripture Promise Decals
Free 1-Year Subscription to ELLE Magazine
Free Copy of the Jiffy Mix Recipe Booklet
Win a Speed Queen Washing Machine and Dryer worth $2000
Win a Month Supply of Little Bites Muffins