This post is a day late but I'm getting there.
I've been thinking of some restructuring.
Last week I sold 2 more books on half.com. I also listed several more up for sale.
My plan is to take the books, or most of them, that I have listed over on blujay and add them to half.com. Also, same with the books on homeschoolbuy. My auctions at homeschoolbuy have all expired. There are over 1000 members on homeschoolbuy yet I've been the only one with listings for a long time now.
Some of the books that have been listed at both places I will be donating to a fundraising rummage sale. The sale is for the youth group that Jasmine (my daughter) has been going to. They are going on a trip to England in March.
I've been working on crochet orders this past week, but did manage to get 1 set of washcloths listed in my etsy store. I had to buy colors and then make them to get the ok on colors for one of the orders I am working on.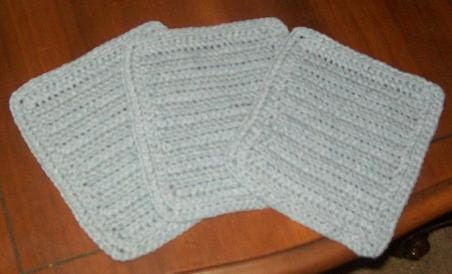 Crocheted Cotton Washcloths Set of 3 in Faded Denim
I am linking this post to: