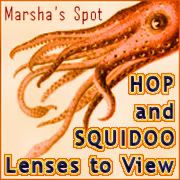 This week I want to talk about lowest ranking lens vs. highest ranking lens.
Which do you choose to update?
Since joining the squidoo facebook group where we share our lowest ranking lens each day, I have really only updated my lowest ranking lens each day for the past week. This has pretty well worked out for me because all but 2 of them I hadn't gotten to yet for my little bit of updating. I now have 16 of 122 lenses that haven't been updated and papers moved into my new notebook. I'm getting there.
I'm anxious to get them all updated somewhat though and move on to continuing from there to do small updates all over the place.
One gal suggested that I concentrate on maybe the lowest ranking lens, but to make sure that I do a bit of an update to any lenses that are close to moving into a new tier. This makes perfect sense!
We all are aware that just doing an update improves the rank, even if we don't share it in the networks. Amazing! I still have my huge list of ways to update my lenses.....which will keep me busy for years to come, even if I never build a new lens again. again.....amazing!
If you would like, and are posting lenses in the linky, this week share your highest ranked and your lowest ranked lenses. If you blog about squidoo, please share your blog link! Also, if you choose to share in the linky, please make sure to come back later, even in a day or 2, and support those who have shared links. Thanks!!