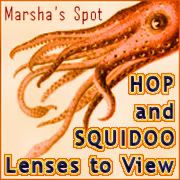 Today let's chat about all the different groups on facebook for squidoo. There are a lot of them! I belong to several and still see more on the side of my page that I could join.
Have I joined too many? Probably so! Do I post to them all? No, I don't. Do some people post the same things to every single group? Yes! LOL
Most days I feel that squidoo has taken over my life. I would say that 75% of my time online is with squidoo. I'm not saying that is a bad thing, especially if I can start making some real money. However, what if I don't? Sure, the socializing is good. I'm seeing lots of lenses of interest.......but also viewing lots of lenses I wouldn't too, just for the sake of giving out some "love". I also try to return comments, but I am behind on that.
Two groups that I am in have daily threads, one for new lenses and one for updated lenses. Those groups are: Post a Squidoo Lens Here
and
Squidoo Facebook Community
.
I do try to list one of the lenses that I update each day, but no more. Some list every lens they update. When I do list one, I also go through the previous comments viewing others updated lenses. That is the only fair way to do it. The same goes if I happen to build a new lens, which, if I am lucky, is one a week.
One group that I am in is owned by Poutine. I've known her online through squidoo and also through gather.com. I joined her group because I consider her to be my friend. She is a very helpful gal. However, it seems about all I post to her group is the link to this blog post each week. (Poutine---comment today on other things you would like to see posted to your group please). Her group is Squidoo for all.
I've joined the Ask a Squidoo Expert group
so that I can do that. There's so many questions about squidoo. I've already asked several. I've gotten good answers and I've learned.
Then we have Squidoo Visits and Posts. In this group you list 5 of your lenses each day....AFTER you have visited at least 5 others that have been posted by others. They also ask that you give extra love to the lenses that you visit by pinning it, liking it on facebook, clicking on an outlink, or buying a product if you see something of interest. I so love this concept! I don't however, do it every single day. I do try to though. I also visit at least 10 others instead of 5 as well. Mostly I click an outlink, but have pinned if it's a recipe or craft I want to try. Fun fun!
How about Squids who Blogs. Just as the name says, share your blogs here, whether you blog about squidoo or not. So far I've only posted the link to this blog post, but will start also posting when I have a giveaway too.
Forgive me, but I don't remember who started Spotted Squids but it is the first facebook group that I joined for squidoo. About says:
If you use Squidoo and want to gain more exposure for your work, network with other Squids, and you've got a friendly sp
irit, then you're a Spotted Squid. Feel free to invite friends, share links to your lenses, tell us about Squidoo related blogs, groups, or pages (including yours). You're also invited to share pictures of picnics, parties, and other fun events where you meet with Squids. This is a great place to tell everyone about Open Mike on BlogTalk Radio too. If you've got ideas for the group, share away! I need to start spending more time in this group.
Last but not least is Squidoo Angels. I have not participated in this group at all....well, until just now I put in a couple of comments.
So, with all of this said (typed), I have made myself a goal. I am going to visit each group at least once a day to see what's happening. I look forward to your comments on the groups too. I also, as every week, look forward to you linking up here. This week I am linking up my 2 newest lenses which are both book reviews. Thanks!!