Before I start sharing the many projects that I have going, I want to introduce my new blog page. It's entitled Hand Made in 2012 (linky). Since I have vowed that the majority of my gifts this year will be hand made, either by me, or bought from someone else, I want LOTS of ideas and instructions.
This page is for any link, not just blog posts. If you have instructions on how to make things, even food that makes good gift, link it up! If you have a shop online such as etsy where you sell your handmade items link it up! If you do squidoo lenses on handmade gifts, either that you've made, or instructions, link them up! If you write anywhere online pertaining to home made items such as hubpages, link them up!
I'm in hopes of there being hundreds of link ups before this year is over. The page has a great start already.
Now on to my projects. I told my husband at the start of the year that I really need to do one project at a time. I"m just not that kind of gal--seems I get bored with just one thing at a time. As far as sewing I don't sit behind the sewing machine all day---even though there are days that I would love to.
Without further ado, here are my current projects!
First, here is the flower fabric quilt I am still working on. I do finally have the top sewn, now to get the back and middle and the rest done.
I have a good start one a toothbrush rug in what I am calling neutral colors.
This is the top I am working on for sewing club at church. I have worked more on it today in hopes of getting it done by Friday. I want to move on to my next top project at home.
Still working on using up yarn stash making double thick hot pads--and using up plastic canvas stash to make matching coasters for the sets. This week is purple.
The take-along bag. This bag is usually in my tote. This way I can work on coasters, cross magnets, and baby blocks while I am out and about if I want. This bag has sorely been ignored though. It now also holds some of the yarn that I am using for the Granny Square a Day in 2012 challenge.
Here is my progress on the Granny Square a Day challenge as of January 10. I am sewing them together as I get them done. I'm also debating on going ahead on my trimming as well. What I am thinking for the trim is all the small balls of variegated yarn I have in my stash. Do you think that would look ok? There are going to be lots of colors in the squares so thought the variegated yarn might be cool too. Click below on the button if you want to know more about the challenge.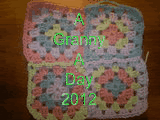 Last but not least is the quilt top that I am working on at sewing club at church. If you recall from past posts, I originally sewed the squares at home. This project has been going on for awhile.....I doubt I finish it next month. The one lady is trying to up my skills by teaching me to make this scrappy quilt. I spent a lot of sewing club time yesterday getting squares cut. I plan on having a report of progress on it with next weeks post.

Whew! I am linking up with the following blogs: