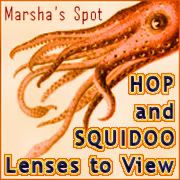 I didn't have a good week as far as updating or building new lenses. In fact, I didn't do either!
I've been in squidoo a lot this week, so don't get me wrong there. I've been leaving comments all over, and even searching for subjects of interest as well. I do have lots of comment love to return.
This week my post will be short and sweet. I'm going to list my lenses that are in the red and maybe you can give them some love. I need to work first on updating these to get them out of the red. I do have one in the red that needs to be deleted.
I know many of you say never to delete a lens, but this one is for Cello in a Box. I am no longer an affiliate with them. I am, but don't quite know how it all works now since they changed the system. Or, should I find out how it works now and update it accordingly? I will put some thought in to that before deleting the lens because just now I am having some thoughts going through my mind on how I can change things.
A second in the red is also another lens built around a website I am an affiliate with. I need to check with the owner of it to see if she is still running things there.
Here are all of my other in the red's:
I hope to see many links ups this week. I do enjoy spending time in squidoo :)