I've really been working away, right on schedule as I planned this past week.
My toothbrush rug is moving right along. I even found some more fabric to add to the box while looking for other things. I think this will end up being my biggest rug yet once I get it done.
Yay! My flower fabric quilt it tied and the binding is pinned, and it will be completed! I am doing a wrap around binding. It will be listed for sale in my etsy store this weekend. (along with the purple hot pad and coaster set, which I did just finish this morning. I haven't picked out the next colors of yarn for the next set.)
I was going to lay out the materials and get them pinned for my 2 table runners. Imagine my surprise and delight when I realized I had enough of these materials to make 2 table runners. Nothing is done past laying them out. I will do a wrap around binding, but I think I am going to try to hand quilt around the flowers. I think I could maybe do a free motion quilting with my machine on a table runner, but first I have to learn how to do it.
I said last week that I would get the material cut for the scrappy quilt and post an update on that. I hadn't done any work on that until Monday evening. I found I hadn't brought home enough of the lighter material from church. I picked more light material while we were at church yesterday. Last night I then figured out that I also didn't have enough darker material to get all the squares cut. I went in to my own stash then and now have all of the squares cut! That is really no easy task. My next step is the get the corner to corner lines drawn on the light colored 88-4 7/8 inch squares and 52- 2 7/8 inch light colored squares to be ready to start sewing those. This is going to be a slow project, but hopefully I will have some sort of progress to update next week on it.
Finally! My granny square a day challenge as of today, 1/18/12. I've decided to go on out sewing squares together to the width I want the blanket to be. This way I can go ahead and get a start on the crocheted edging too. Ignore all the white yarn...I'm leaving long pieces on so that all I have to do it put my needle back on it as I put the squares together. You can follow along with others progress by clicking the button below my photo.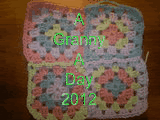 I am still working on the cross magnets and block squares with plastic canvas, in fact I am finishing up a purple cross that is on my lap. I am ready to put together one of the blocks. I admit to have a few granny squares made ahead. I am just sewing one on each day.
I better stop with my rambling here, get back to work, and also check out what others are up to as well. I am linking up with the following blogs: