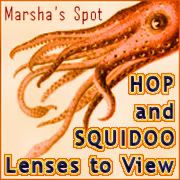 .......but once again I didn't update or build any new lenses this past week! As my title states, I have been hopping all over squidoo though. I am really enjoying the squidoo facebook groups. As I get to those message notices in my gmail, I do open all lenses. As with all my other gmail, I am also behind in those too.
I have an idea rolling around in my head for a new lens. I need to get my pictures taken for it first. No clues, it's going to be a surprise, but I hope it will be well read.
I asked someone in the facebook group, so probably have an answer to this, but are pictures in wikipedia in the public domain? Not knowing, and all the talk of copyright lately, I've not built any more of my This Day in History lenses. I so want to get back into those though. I still have 4 birthdays to do for the year, then want to move on to filling in the other days of the year.
(Something strange just happened----I was typing this and my screen went faded and a message popped up that I had logged out from another location and did I want to log back in? OMG--please tell me that I've not been hacked!! Why would I be logged out from another location? and just what location??)
Since I don't have anything new to share this week, I will share two lenses that are at the bottom of my list and close to being in the red:
Thanks to all who take the time to read my blog posts each week. I do hope to see lots of link ups this week.