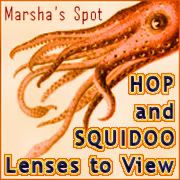 Yep, yesterday was squidoo payday. I didn't make enough last month to get paid. I did get paid yesterday, but ended up making less than I had the month before. Must have been a couple of months when I really didn't do much with squidoo. I'm trying to work squidoo more to ensure I at least reach payout each month, but I really need to be a lot more! I know others are highly successful at squidoo. I'm using 2 groups in facebook and learning some things from there.
I finally did a search on how to find your facebook identifier number and was able to plug it in to the facebook fanpage module. Woo Hoo! It's working now. I only have it in my Homeschool Books Used 2011/2012 lens so far. There are only a few of my lenses where I feel it's appropriate it in, but that is on my to-do list.
I got to work on my Charity Donations lens. I still have a long ways before all the charities are listed. I found that when adding modules from the sidebar I can't add more than 10 at a time of any one module. So, that is where I am starting with, 10 at a time. After each 10 I am putting in "A word from our sponsor" and using the affiliate modules----is that tacky? So far I'm putting in products that have to do with volunteers.
Another book added to Learning About Greece. We still have 4 books to read before it's complete, so it will be ongoing for awhile.
I updated my Guns n' Roses lens after reading in our paper that they made the Rock and Roll Hall of Fame. Checked the videos while I was there, they all still work. Sometimes in my music lenses when I check a video that I had in is no longer available on youtube so I have to replace it.
That's it for me this week. Remember, if you don't blog about squidoo, I am now allowing you to link up one or two of your lenses instead in the linky. I really want to see this grow. Keep me busy with squidoo!