It's past time for me to be serious about my crafting----and this time stick to it!
I've been so super busy away from home that my blog has been neglected. I took photos for last week's post then got busy and didn't get the post done!
Here is the photo of what I am calling the never ending quilt top for sewing club at church. I'm going to make a real effort to work on this at home too in hopes of moving it along on being done. I'm not getting far for sure working on it only once a month at church. We met twice this month.
I am making these little strawberry pin cushions for quilt guild. They go in each goody bag that will be given out at the door at our quilt show in July of next year. I have 5 more to make.
It's past time for me to get serious about finishing up projects that I have started in my 2 UFO drawers. This is a baby quilt with Bambi. My first try at machine quilting since I now have a new machine and a walking foot. I pinned it and have about half of the quilting done on it since taking the photo.
I was able to finish up some baby bibs and fabric bags over this past week. I am still working on knitting the prayer shawl for church but forgot to take a picture of it last night. I have one more skein of yarn to put in.
I'm behind on my granny a day challenge. This is my blanket so far up to October 29, Day 283. I hope to have my days caught up to post this time next week!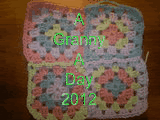 I am linking up with the following blogs: