It's been a week of bunny blocks and granny squares.
Let's start with the bunny squares. Thanks to 4 hours at sit n' sew at the local quilt shop, I was able to get all my bunny blocks cut and most all of the bunnies basted on. I finished the basting, as well as completing one of the bunny blocks while out and about waiting for others in my van. The plan on those is to keep the box in my van for handwork while waiting. I am going to be joining a stitch group for handwork as well, so we will see when that starts and what work I can plan while with the group.
I have 20 bunnies. If I stick with these and just butt them next to each other with no sashing, it's not going to be a very large quilt. Time will tell on what I decide to do here.
Now for my granny squares. As you know, this was a Granny a Day 2012 challenge put out by the Hooked blog. Click the button to check out her blog. I have completed my blanket and my pillow both and I am done for the year. I was going to make you all wait to see the finished products but decided not to. I have a total of 340 squares in the blanket and pillow combined and that would have taken me to December 5.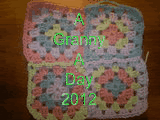 I am linking up with the following blogs: