Another week----projects still continue on!
I have another quilt started. I'm nervous about not having enough of the cream colored material. Time will tell as I get further along on it. I'm trying to sew on it a bit each day.
I'm still trying to work a bit each day on my current toothbrush rug. I thought it was going to be my biggest one yet, but I see now that I will soon run out of a couple of the types of material. Another time will tell project.
I have blue hotpads and coasters going. Anxious to get these completed to use yarns in my granny squares. I have 2 more colors picked out for my next set too.
I didn't get much further on the scrappy quilt that the gal at church is teaching me to make. I did experiment sewing a few of the triangle blocks. I can at least get the lines drawn from corner to corner if nothing else on the stacks of light colored squares.
Here is how my granny square a day is stacking up as of today 1/25/12
.
This is across our king size bed. I'm thinking I will add 3 more squares on to the width. The white yarn is what I have on there for my sewing together. I figured leaving long strings on was a lot easier than tying a lot of knots as I add squares. It's working out great.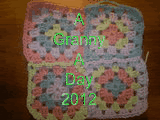 We are meeting more often than once a month right now for sewing club at church. We have a LOT of quilt tops that need to be finished and want to get them done and donated. We are down to just the 4 of us you see in the photo for club. I do so wish other church members would join us!
Tired of looking at my pictures yet? LOL That's it for this week. I have come to a stand still on the table runners. I have no idea how to sew the tops. I started to hand quilt around the flowers but it proved to be hard, and it looked really tacky with the pink thread on the maroon back. I'm thinking of trying circles around the flowers, but haven't got around to trying it yet. I've made a total of 10 plastic canvas cross magnets. I should finish those up as far as the rest of the magnets that I have for the back and be done with them. I've been filling in squares for baby blocks and have enough for almost 3 blocks...another project I should just finish up and move on.
I am finding out about all kind of classes and such through the local quilt shop. I wish I had known about them already. I foresee a lot of learning in my future!
I am linking up with the following blogs: