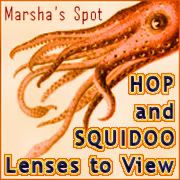 Happy Hopping Thursday!
I did manage to get one lens built this past week. Learning About England. It's just a start on the lens as we read and learn in the books about England. It will grow up until my daughters trip, and once she is home I will add photos to it from her trip.
Before making the lens I asked questions in the facebook group and learned new things. Seems I am learning more and more thanks to being a part of the group. I had no idea you could click on the pictures in wikipedia and see if they are in the public domain or if you need to give attribution! I don't know if you can do that on other websites.
I believe I need to make myself a life schedule. A little off the squidoo subject, but squidoo would be part of that schedule. A set time each day that I spend specifically working in squidoo, along with set times that I work on other websites, work on my crafts, do schoolwork with my daughter, and do housework. This wouldn't be an easy task with all the things I do outside the house, but at least the things that are regularly done outside the home could be worked around.
I hope to see many blog posts and lenses linked up below. Seriously, keep me busy hopping from my blog!