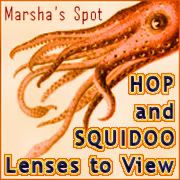 I want to start off this post with a module question. I asked in one of the facebook groups last night.
Is there a limit of only so many of one module within a lens? I was trying to update my Charity Donations lens again to add 10 more charities, but the donations module was no where in sight! If there is a limit then I will have to do these in parts, but I'm pretty sure there isn't a limit.
I didn't get a new lens built this week. You know the saying about the best of intentions. It's just so busy right now with Christmas!
I did update my Trunk or Treat lens ---which should have been updated right after Halloween, actually should have come home Halloween night and put the photos in! I only chose 10 of all the ones we took to add.
I added 2 more books to the Learning About Greece lens. It will be awhile before I add more. We have 2 books left to read that we had picked out, but we returned them to the library until after the holidays. I like Ruth's suggestion of making the What We Have Learned into a link list as well. That could be an update until we get back to reading...we will see.
I also updated my Blankets for Christmas lens. Next up will be Crafts as Gifts that I had hoped to get to this week. I'm really going to need to open up a new Crafts as Gifts, because that one is getting too full, plus I've made a vow to make all gifts homemade next year.
I'm going to close for this week by wishing you all a VERY MERRY CHRISTMAS!!!

Christmas Graphics - Hot Comments