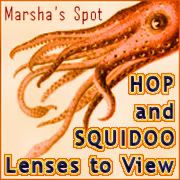 Tentacles in a twist---that was the message I kept getting all last night as I tried to build a new lens.
Thankfully I was able to get up this morning and get the new lens built.
KT Tunstall Tiger Suit --This is a music album review lens. I must learn how to fancy up my lenses like I see so many others do. My text modules just look blah. If you can direct me where to learn how to liven them up, please do so!
I don't believe that I updated any lenses this past week. I'm guilty of still being in a sewing frenzy. Must learn to divide my time up better. In the meantime, here are some of my "in the pink" lenses that could use some love to raise lensrank until I can find the time to get some updating done.
I'm sad to report that I didn't make enough this month to get paid. I would have if I hadn't started donating though, so that is still good. I have a long ways to go to get all of my lenses giving 10% to a charity.
I'm going to close for today and get this linky going. I look forward to any additions to the linky this week.