I never expected that a week later I would still be working on just the microwave hotpad sets. I've been working on them daily.
My picture isn't the best, but here's where I am in the process. 2 sets are complete, 1 set almost complete, and several more in the works.
I am trying to be good and complete these sets before working on anything else. I'm itchin' to get stitchin' on the drawstring backpacks for Christmas gifts. With any luck I will at least have the fabrics cut for those by this time next week.
How are you doing on making Christmas gifts?
UFO's:
Rectangle quilt
challenge wall hanging
Hexagon quilt
Emerald Island Fusique table runner
Five and Dime quilt
Brown half square triangle table runner
2 sets of doll blanket, pillows, bed and rug
Wall hanging for quilt guild
yo-yo's that need to be made into projects
black and white rail fence quilt
Arkansas Crossroads scrap quilt
T-shirt latchhook rug
Charming Stars quilt
Special crocheted prayer shawl
Fall Squares table topper
Crazy colored quilt with the five and dime blocks
Rainbow colored string quilt
St. Patricks yo-yo table topper/runner
Lexington quilt
? Fabric boxes for Christmas gifts
? microwave hotpads
I link up with the following blogs: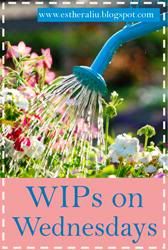 Since Christmas is so close I want to share some of the Christmas related book that I have for sale on half.com. Each picture will open the actual book for sale.