Not too bad of a week.
I went to sit n' sew at the quilt shop Friday evening. I was able to get 5 strawberry pin cushions made as well as finish up a Halloween bag.
I didn't get my post up last week. I was extra extra busy away from home with the state fair in town.
Here is what I accomplished on the quilt I am working on in sewing club at church:
Basically I just got more triangles cut and some of the half square triangles made. I also completed 2 more of the squares. I have a very long ways to go to get this top done for sure. I'm upset that I am just not finding the time to work on this much. When will things slow down so that I can actually make it in to my craft room??
Speaking of the craft room, I have not gotten anything else done in there as far as organizing either!
I finished the crocheted prayer shawl this past week. I worked on it while I was working selling parking spots at the church where my daughter attends youth group. They sell spaces during the state fair as a fundraiser. I had to take her time slots since she was working at the fair. Also in the picture is the progress I have on the knitted prayer shawl so far:
Since I finished the crocheted shawl, I then had more colors to use to make granny squares for my granny a day in 2012 challenge. I am not caught up to the current date on putting the squares on my blanket. Here it is done up too day 259, Sept. 15:
I'm still concerned that once again I'm not going to have a lot of colors like I would like. Now I have very little of other colors of yarn, but a lot of greens and beiges. It just has to work though!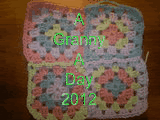 Oh gosh I hope to get a lot done over the next week--all I can say is to please wish me luck there!
I am linking up with the following blogs this week: