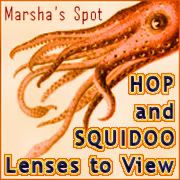 As I watch a rabbit munching on grass in our front yard, I've decided to make this week's theme animals.
Very broad so share any lens related to animals--real or fictional---pets----care of animals--the list is pretty endless.
Also, please link up any blog posts you've done over the past week where you mention squidoo, or have a link to at least one lens!