I couldn't think of a title today. It's been a busy week!
I was able to complete 4 Halloween fabric bags at sit n' sew at the quilt shop. I have 4 more cut and even some sewing done on a couple of them. Here is just one of the prints that I made:
Here is the picture I took late last night of the prayer shawl. I did get in to a movie afterwards and did get the rest of the fringe put on. They have posted a need for more prayer shawls, so despite not wanting to start anything new until completing a lot of what I have started, I will be getting yarn and starting another prayer shawl. I haven't decided if I will crochet it or knit it.
Yesterday was sewing club at church. I don't feel like I moved much on the quilt I am working on. I put together some more of my larger half triangles, and started on all the half triangles for around those larger ones. I am in hopes of laying the materials out on my craft table here at home and putting in some time each day on working on it. Seriously this is going to take me over a year just to get the top done!
Finally for today, here is my granny square a day 2012 blanket---day 228, August 15. I did get more colors after finishing up the prayer shawl above, but I'm still nervous about having enough yarn to finish this project out. I'm anxious to get all the squares made that I can to see if I do have enough yarn. That's Ellie sitting in the middle of it---it's usually Molly in the middle of my pictures LOL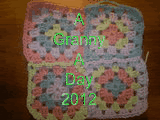 I really need to get a list put together this week of projects that I have started and place it on the bulletin board in my craft room. I didn't make any further progress on my craft room other than picking up some of the grandkids' toys. I plan on just putting those in the garage. They have plenty in the cabinet and drawers in the hallway to keep them busy while they are over here. Their books will remain on the shelf in my craft room for now.
I am linking up with the following blogs: