Let's start with my WIP of getting my craft room back in to order. It's in such disarray, it's no wonder I don't have the motivation to get in there and get some work done!
This picture only kind of shows one corner. You can't see everything that is piled in the northwest corner of the room, or the bookshelves in the southeast corner that are covered with other stuff as well as have toys in front of them!
I've went to the garage and got out one large shelf unit. I had bought it to use for garage sales. Silly me, why didn't I put it in my craft room to begin with?
You can see in the photo (maybe) the 2 small cubby organizers I have bought and have got some things organized in to.
Wish me luck that next week I can share a photo where you can see that I have made some progress in this room!
Moving on to some crafts now. I have been knitting some knit kits for Morehouse. They sent them to me to do for a review. The scarf went fast with the big needles. The hat I've been working on here and there for over a week. I'm not an avid knitter, and I'm not sure I've worked with needles as small as the ones for the hat before. The hat and scarf will make a nice Christmas gift for someone. I will have a full review on my blog once I have completed the projects.
After working on this quilt at sit n sew at the quilt shop and for a a bit here at home, it's finally to the last stage. I am sewing on the binding. I hope to have it done to post for TGIFF this week.
Last but not least are my granny squares for the Granny A Day 2012 challenge. No picture of my blanket progress as I've not had time to put them on to the blanket. This is day 207 of the challenge. Hopefully next week I will have them on to my blanket.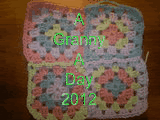 Until next week! I am linking up with the following blogs: