No progress on my cross magnets.
No progress on the scrappy quilt for church other than drawing some of the lines on some of the larger squares.
I only made it into my craft room to sew on my quilt once---hoping to get in there again this evening. I still don't know if I have enough material to make it as large as I wanted. No problem on the strips as you can see from the picture, the problem is the material I am using in between the squares and for the binding.
We met again for sewing club at church. This is the 3rd of these polyester tops that we now have tied. We have just one left to go. I have to admit that I am thankful that we are taking next week off from working since it's Valentine's Day.
I did get in some work on my baby blocks. I have more squares complete and the yarn ready for what I need of the rest to make 6 blocks. I'm taking these mostly with me in my tote to work on while out and about.
Last but not least, we are at day 39 of the Granny a Day challenge. I have several squares worked ahead
and just adding one on to my blanket each day. I'm working 1 up and the next day 1 across for now until I get it the length that I want. You can't quite see all of the squares in the photo. It is just a little wider than our king size bed.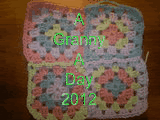 I am linking up with the following blogs: