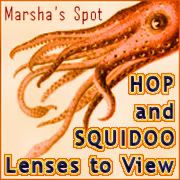 Pin It
Ok, I'm slow. I hesitated joining pinterest for the mere fact that so many were talking about getting lost there for hours looking at things. I do too many things on the internet to get lost there....or so I thought.
It wasn't until after I joined that I realized we even have pin it on lenses for easy pinning! I know I had been reading in the squidoo facebook group about others getting more views after pinning things.
I'm amazed at how many are following me each day. I don't even know how they are finding me!
I do need some help with pinterest. I don't need the help with squidoo lenses since the pin it button is already there for us, but I need help with pin it buttons on my blog. Is there a way to have the pin it automatically show up in blog posts, or is there a code that I have to put in to each post? I'm going to experiment with that in this post. I just know I am seeing pin it in blog posts, and I am seeing blog posts being pinned.
What are your habits on pinning? For right now I am trying to pin a lens by someone else for every one of my own that I am pinning. And, so far I've only pinned a few of my own lenses....the first one to experiment....most others just as I have updated the lens. (I'm still working on my squidoo organized notebook) Should I add the Follow me on Pinterest to each of my lenses?
I look forward to any and all input on Pinterest!
Now, onward.....I didn't build any new lenses this week but I did update some:
Question-----would you all like me to make a suggestion each week on lenses to link up? For example: link up your 2 bottom lenses or link up 2 lenses with a rank between this number and that number or link up your newest lenses etc? I can do something like this but you could also still feel free to link up anything. Please give me some input as I really would love to see lots of lenses linked up each week. Am I right in thinking that the linky works as backlinks?
Thanks!!