Oh my...I feel so overwhelmed by how many projects that I really need to finish. I have yet to finish even one of my 17 UFO's in 2017 challenge!
I did work on the penny rug, but ended up putting it away before taking a picture. What I found is that I need far more felt circles than what I had cut out. I need to get to finding my felt in my mess of a craft/sewing room. Hopefully by next week I will at least have a few of the circles that I do have pinned on sewn down. I make myself no promises though.
I did get one step further on the red string blocks, red being March's color with the soscrappy blog challenge. I've not even looked yet to see what the color is for April.
I have my guild challenge sandwiched and pinned, but am at a loss on how I am going to quilt it. This has to be done by the 24th so I need to get that figured out, and quickly too!
Of course I'm still going with my yo'yo's. I'm looking forward to the upcoming quilt retreat this month where I plan to start sewing them together.
I'm heading out now to the post office to see how much it will cost to ship a quilt to Ireland. If it's not too much over what I have for the shipping in my etsy shop for it then it's sold. Wish me luck!
I link up with the following blogs: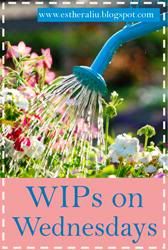 Jo's Country Junction: http://www.joscountryjunction.com/
Adiyday: