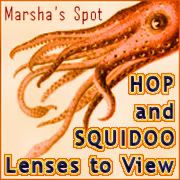 Welcome to Thursday.
I look forward each week to doing this post and seeing what is shared in the linky.
How are you liking the new design on the squidoo pages? I was worried about some of my things going away, but the ones I looked at seem to look great.
I had thought that maybe my stuff wouldn't disappear as the lens I used to get my codes was called html for squidoo.
I can say this....Ive ended up liking the change. It means that all of our lenses look the same. No more competition with the lenses that were so fancy looking when I didn't know how to also make mine look like that.
I've been back to my daily updating this past week and even built a new lens. So far my lenses are staying out of WIP status.
Does anyone recall how many lenses we are required to build in a year to maintain Giant Squid status? I'm thinking 4. I have more than that this year, just want to make sure I don't mess it up next year.
I'm going to continue to share on the here 2 lenses that are just below the 85,000 ranking.
By my count I still have 67 out of 147 lenses to give an update to before starting over. A few I've been working on more as they had several photos for me to add or the like.
I'm having fun and that is part of what it's all about!
I look forward to what you choose to share this week.