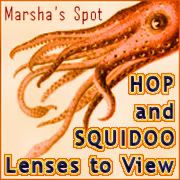 It's Wednesday evening and again I am putting this in and scheduling to post. I have to run my mom early in the morning.....too lazy to get up early enough to post this before I go.
We have internet back at home now since Friday evening.
Here's the sad part. I feel like I got more done when I was having to go to the library for my computer work.
Each morning I had a plan of what I wanted to accomplish online for the day. Each day I had my papers and such organized and ready for the day.
I told myself I was going to keep it up....that didn't even work for one day!
I didn't update or build any lenses this week. I did visit quite a few lenses of others......especially since joining the Giant Squids group on google+. This is going to be a good group for me to be in.
Squidoo on my friends!