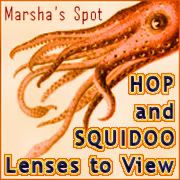 The filters have hit the Giant Squids, and some have been hit pretty hard! I was reading in the facebook group comments where some had over 100 lenses given the heads up warning.
I was very fortunate--only 2 of my 134 were flagged. However, if I am reading in the groups correctly, there are some who had flagged lenses, updated and got them greenlighted, but some are being flagged again......as well as additional ones being flagged.
As of right now I don't have anything else flagged but my dashboard says it's been 17 hours since ranking and such have been updated.
One of mine that was flagged was Pop Tarts Vs. Toaster Strudel. I almost just deleted the lens because it's never been one I really liked. However, I did go in to mess with it. It had that black amazon box to put something towards the top so I moved one of the modules. I also added a black box at the top telling how I originally came about to build the lens. I also added a lens love widget above the guest book. Because someone mentioned adding the about me module and having their's greenlighted, I also added that to the bottom of the lens. It was greenlighted.
Now, the other one that was flagged was one of my directory lenses---the one about my homeschool lenses. I started out doing nothing more than adding a description of why I chose to make each set of lenses that I had featured in each section. I thought that would be enough for the greenlight. I hit publish and it wasn't....so I put in for it to be looked at and green lighted.
I couldn't wait though and then went back in. I tried adding the about me module at the end as well as the lens love widget. Still a no----telling me low quality content.
Back in I went again, this time adding a poll module---still a no go.
Back in and I changed the bio to a custom bio and added a flag counter at the bottom.---still a no go.
I tried putting in descriptions here and there on the amazon items, as well as I removed 1 item from each of the modules.----still no greenlight.
My final change was to remove the text module where I had 5 zazzle items put in. BAM!! It was then greenlighted.
OMG! I was trying not to take out the zazzle items, so that makes me sad. But also, I put in so many updates that I don't have many more updates I can do to that lens to help it in the lensrank later. Do you think I can go back in and add say just 1 or 2 homeschool zazzle designs? Do I dare even try it?
This week, I wish for you to share 1 or 2 of your lenses that were flagged and that you were able to fix. If you have time, please comment and let me know what changes you made to get them greenlighted.
Also, please, if you have blogged about squidoo at all, link those posts up too!