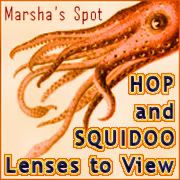 There are some things going on in my personal life that are bogging down my brain. I find myself with so many things to do, all the way around in my life, that I don't know where to start, and most of those things aren't getting started!
So, this week, motivate me!! Share any motivational or helpful lenses that you have built. To give you some ideas----lenses that teach about squidoo, lenses where you share you earnings on squidoo, lenses on organizing, whether it's your home, your office, your life, etc, lenses with motivational or Christian sayings, verses and quotes, even lenses about books that are motivational.
I want to say thank you to those who are here each week to link up with me, and to those who stop in occasionally too. It means a lot to me, and I love linking over to your lenses!