I can say that I've gotten in quite a bit of crafting in over the last week.....but not as much as I would have liked to!
Let's start with my hand applique project. I pulled out materials and have them lined up for more bunnies. I went and bought 2 bags of embroidery thread, and I put all my supplies into a shoebox. My plan is to work on this Friday night at sit n' sew. Before I work on it on the go, I need to finish up the Bambi quilt I currently have in my van to work on.
The year is coming to an end and I am getting closer to finishing up my granny a day 2012 blanket. Here it is, day 312, November 7.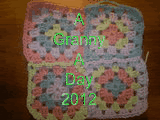 I finished crocheting up an order of a dozen dish scrubbies this week. I really really really need to work on a set of pillowcases that are ordered as well. I've been putting it off since I am going to try something new with them and applique on pictures.
I am still working on this knitted prayer shawl for church still. I only pulled it out 2 evenings, so not too many more rows put on it. I hope to get it completed over the next couple of evenings and get it delivered to church.
The challenge has been put out with our quilt guild. I have some pre-cut blocks that I want to use for it and I have some ideas rolling around in my head. I'm going to make mine a table runner in some flowered materials. The completed challenge project is to be done by the April guild meeting.
Oh, so many UFO's still sitting in my craft room, and more projects that I want to start on! I have my crafting work ahead of me.
I am linking up with the following blogs: