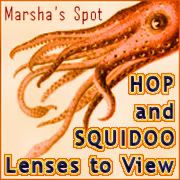 This week I would like for you to share lenses that you have built where you use your own original photos within the lens.
Maybe you've made a lens all about your town, or a vacation you took. Maybe you've reviewed a book or a toy, or something else. Maybe it's the flowers and plants in your yard. Maybe it's your about me lens with photos of yourself and your family. Maybe it's a lens about your pets. Whatever they are, please pick one or 2 to share below.
For those of you that are new, you will hit the spot where it has the little blue frog face and the words add your link. It will then pop down where you will put in the url to the lens, the title, and your email. From there it will take you to a page where you choose the picture you want in the list.
Please remember to link up any blog posts you have done that have anything to do with squidoo as well. Thanks!!