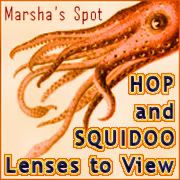 After pretty much taking last week off of everything for Thanksgiving, I have been really working hard this week. Back to business, especially with Christmas right around the corner.
I am not having a theme this week for the link-up, rather I am going to let you choose the 1 or 2 lenses that you would like to link up. Maybe it's your bottom 2, your top 2, your latest 2, your favorite 2. The choice is yours!
Please also link up any blog posts you have done relating to squidoo as well.