That's my big announcement for this week. I got my new sewing machine. No, it's nothing expensive or fancy. In fact, with the state fair half price special and 20% off of the 3 extra feet that I ordered it was just $260!
It's a big step up from the little Brother that we bought one Black Friday at Walmart for $60. I never complained though, and I sewed for over 4 years straight on the cheap Brother. I will still be sewing on it too, at least if the measurements aren't the same. I have to check that out, but have the one quilt top that may need to be finished on my old machine.
I'm loving the automatic threader and the thread cutter. I can't wait to play with all the extra stitches that I now have too.
In other news I've not gotten much done in the craft area. I sat last night and I wanted to finish my block for sampler but it got too late. I do have to have it finished before sampler on Saturday, and have worked a bit more on it this morning.
The quilt shop printed out a photo of the square for us since we are using a bit different colors than what the book does. My first time making the square in a square. I just finished that and it looks pretty good. And, the reason the sampler excites me because I will be learning new things.
Otherwise I have crocheted and crocheted granny squares this past week. I didn't get anymore put on to the blanket as I am trying to see what I can make with what yarn I have left. Again I am running low on variety of color. I don't have many colors left now. I will be adding to the blanket over this next week and then again making more squares.
This is just a picture of the squares I have made at the moment.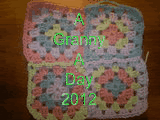 That's it for this week. I do hope, with my new machine that I have a lot more to report next week.
I am linking up with the following blogs: