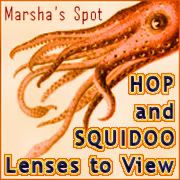 Good Thursday to all! Since it's now Autumn, or Fall, let's make this week's theme Fall.
Share lenses that have anything to do with the season, colors of the seasons, holidays in the season, activities during this season and more. Have fun!
Don't forget that if you blog about Squidoo at all please link those posts up. You may link up older blog posts if you like, and the linky remains open until the following Thursday when I put up a new one. Linking to blog posts in unlimited, but linking lenses is limited to 2 per week.
Thanks!