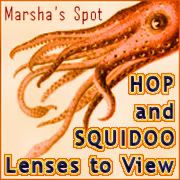 Let's change this up with this weekly hop. I want to start having a theme each week. I have made this week's theme cartoons.

****

Please note, that if you do write about squidoo in your blog, this is the preferred thing to link up each week. If you do write about squidoo in your blog and link it up, you are still also free to share 1 or 2 of your lenses in the linky that are related to the theme.

****

The cartoon lenses that I have were built in dedication to either my children, or grandchildren, based on their favorites. I made all of them back in 2008! I've been doing a lot of updating to them lately, especially attributing, or changing photos. I wish I had known about copyrights, creative commons, public domain and all that back then. I still don't know it all! Today I am sharing 2 that I have fixed up, replaced pictures etc.