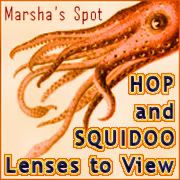 Lensmaster vallain (Virginia Allain) has issued a challenge. The challenge is to pick up to 3 of our lenses that rank between 200,000 and 250,000 and update them 3 times over a period of days. No advertising, or linking up that you have updated them until the end of the challenge. Hey, that is a challenge within itself. The experiment is to see how lensrank does with updating alone.
Hop on over to her lens or full details. I am sure happy that I did! She links in others lenses that will really help you with updating and making your lenses stand out as well. Thank you Virginia!
As you know, I've just not had the motivation needed to do much work on lenses the past few weeks. I hope this challenge will give me what I need and that I can keep it up!
No....I can't share which 3 lenses I chose to update, but they will be revealed in the end. I will say that these lenses really needed to be updated! Ugh! They were boring, lacked content....so much in fact that I wonder how they were even in the 200,000 ranking to begin with! I'm also glad that there are 3 updatings with the challenge because then I can take my time at getting in the updates that should have been done on these a long time ago.
For this week in the linky I am going to randomly pick a couple of my other lenses to share. I do hope to see lots of link ups.