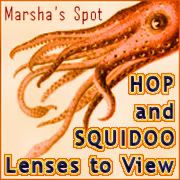 I have no title for today :( The best of intentions I am guilty of once again this week.
I seen Ruth's Latest 10 Lenses lens and got as far as making note of my latest 10 lenses built.
I did this with the intention of building a This Day in History and then building the one about the recent 10. This is a great idea, and when I get it built, I will be crediting the original person who thought of the idea.
This week, instead of posting my links within this post, I am going to just randomly add 2 lenses to the linky below. I hope to see lots of others do the same :)