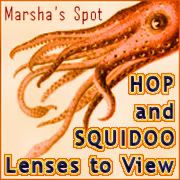 I've been too heavy into completing a craft project this week. Sadly, I've done about my usual viewing and commenting on lenses of others but no updates on my own, and no new lenses built either.
At one point I was going to apply for Giant 50 but then wasn't sure if I had 50 lenses that are good enough, despite the updating I have gotten done. I also want to update my lensography before applying for that next step up.
I did work on building my placeholder lens for my This Day in History lenses. I'm not sharing the link yet because I am not happy with so few completed. My goal before sharing the link is to have a minimum of 3 days completed in each month.
So, that is my mission---get these lenses built!! Shoot, I still have 3 birthdays (at least) for the family, to get built.
I will get it done!!

*********Questions-------Does the Random Facts module no longer work? It's not showing up for me. Has anyone ever heard anything about the donations module and if it will ever come back?? I so want to finish up my Charity lens, but can't without the module.**********
What blog posts or lenses are you going to share this week?