Let's see--
No progress on the cross magnets.
No progress on the toothbrush rug.
No progress on the walker bags for the quilt guild community project.
I did get a few more squares filled for the baby blocks, but didn't take a photo. I figured I would wait on taking a picture until I have one of the blocks completed.
OMG! You won't believe that I actually did some work on the scrappy quilt top for church. Funny thing is that hubby and I were watching movies on tv at the same time. I was pinning and marking during the movie and on commercials I was heading in to the craft room for a few minutes of sewing and/or ironing. I'm surprised at just how far I did get, even though it's only a beginning on the whole top.
I did get another row complete on the other quilt I've been working on. I went ahead and took a photo, however, I need to rip out the row and pin it this time before sewing. The lines didn't line up right....how aggravating.
I am hosting the TGIFF! Blog hop this Friday and I am hoping to have a finish. It looks like my finish will end up being this table runner. I have procrastinated on getting going on the hand stitching for the top of this. I'm over half way done with it now so wish me luck on the finish in time for my post. I just took a picture of how I am stitching it---the old use a glass to draw a circle method.
Last but not least on my list for this week is the granny square blanket that I am working on for the Granny a Day 2012 Challenge. I've still been crocheting more granny squares here and there even though I am way ahead on that part. In sewing on one a day it's just 7 each week, but it is getting bigger. I'm working one down one day and one over the next day until I get the side as long as I want it to be. Just the way I work...have to be a little different. This is day 46.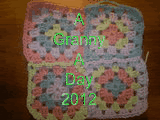 And....I am linking this post up with the following blogs: