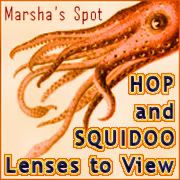 Welcome to the first squidoo hop of the new year. I hope this post finds everyone with a re-newed outlook for the new year.
I've found myself sidetracked in squidoo quite often this past week. Just now I was doing a search to find the instructions to crochet a granny square and towards the top of my search was a lens!
I believe that I only updated one lens this past week. I had to update This Day in History August 15. I had put it down as Araya's birthday but it's Willo's! Oopsie! I do still have to build one for Araya's birthday, as well as my mom's, and 2 of my grandsons--Tristian and Cash.
I did build 2 new lenses though....2 in a week for me?? The first one is Crafts as Gifts 2012. I realized that my original Crafts as Gifts lens was just getting far too large. I have vowed to make 2012 a home made gift year, so I plan on having plenty to add to the lens throughout the year. I started the lens with a few items that I hadn't added to my original lens. (I also made a page here on my blog Handmade in 2012 Linky, so please do continue to add links on hand made items to the list. I'm loving what has been added so far.)
A couple of days ago I had newspapers on my mind. I was away from home all day, but once home I spent over 2 hours putting together a Uses for Newspapers lens. Wow! A search came up with hundreds of things spanning several websites. I opted to just list the things I have done, along with one I would like to try.....then make a link list with websites of other lists.
In other news---no reply yet on my request to use a scanned picture of the postcard in my Elvis lens. I'm thinking I probably will not get a reply. Several have told me about fair use, but just like my husband, say that Graceland is a stickler on copyright. I still wish I could find the rest of the postcards that I bought while I was there.
I am off for this week, but I do hope to see lots of you link up this week.