Of course once the retreat was over all I really wanted to do is sew and sew and keep on sewing. Life doesn't allow that, unfortunately.
The only thing I have worked on this past week was the yo-yo's. I thought I had the first valance done, but when I measured it, nope, I need one more row the long way!
I set out then to make more yo-yo's, but also to separate what I already had made to ensure that some of every fabric gets in to each of the 3 items.
The only other thing that I did this past week that was sewing or craft related was to cut several t-shirts into strips. I got the stack of shirts at a rummage sale dollar a bag sale for the purpose of cutting them to make them into rugs.
I only cut them now as I was out of rags and I use the left over tops of the t-shirts to cut into rags. I will be writing more about that on Friday.
No plans any time soon to start another t-shirt rug as I already have one to finish on my 17 UFO's in 2017 challenge list.
Sit n' Sew this Friday, so God willing, I will finish up squaring up the half square triangles, and work more on the yo-yo's.
I link up with the following blogs: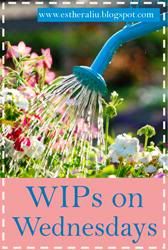 Jo's Country Junction:
http://www.joscountryjunction.com/