aahhhhh home from vacation and it was so nice. The camper we rented was old (had a built in 8 track player), but it sure was nice. I couldn't believe the storage it had!
I took pictures from every angle, but here is the kitchen area and the hallway. The hallway started with a large pantry door then had 3 closet sections with 3 drawers under each.
That's just a start on the amount of storage this camper had.
Yes, I found myself thinking of living there. You know, one closet just for my sewing machines and drawers for fabrics etc. Yes, I would have to cut way back on my stash though!! LOL
I got in some sewing time while relaxing on our camping vacation.
I started by finishing the selvage toothbrush rug except sewing down the last stitch. I'm ready to start on another one now except that I have other rugs that I also want to make.
I also make quite a few more yo-yo's. I plan to save out time each day of the quilt retreat this weekend to putting them together.
I wanted to take a picture of my projects that I am taking to the quilt retreat then didn't. Everything so far is packed in the trunk of my car and ready to go. I so look forward to the retreat!!
What I put in is the Charming Stars quilt to finish, the yo-yo's to sew together, and the Arkansas Crossroads quilt to work on.
I may add something else, but I'm really thinking those 3 projects will keep me busy enough---it's just my problem of getting tired of working on just ONE. IF I get my blue scraps sorted out then MAYBE I will stick to my original plan of also working on my string blocks.
I look forward to posting next week to show you what I do get done at the retreat.
In the meantime, I link up with the following blogs: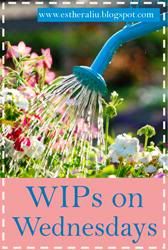 Jo's Country Junction:
http://www.joscountryjunction.com/