Let's start with the yo-yo's. I did get a few more made and then a couple more rows sewn on to the first valance.
Last week I said I need to make 70 more half square triangles to finish the rows on the Arkansas Crossroads quilt. That wasn't right. I have 70 lined now for sewing, cutting, pressing and squaring up, but it's
140
that I need to finish the blocks. I'm going to still try to work on these before the next sit n' sew, then in hopes of finishing the top at the retreat at the end of July.
I am so close to finally having the blank and white with a little red quilt done. It's sure been a retreat project for way too many retreats. I actually plan to finish it
today
!! Excuse the bad lighting for the photos. I can't think of anywhere else to hang for pictures except on the drapes. The front and back are both finally done.
I actually did put another row on the green string blocks too but forgot to snap a picture. Those surely will be done this week so I can move on the making blue ones. I want to work on putting those together at the retreat at the end of July too.
I link up with the following blogs: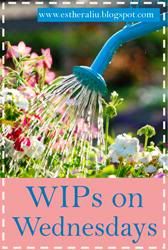 Jo's Country Junction:
http://www.joscountryjunction.com/